Cancers impact more than 20 million people each year and cause more than 10 million deaths.
Ovarian Cancer and Peritoneal Carcinomatosis represent a massive unmet medical need and poor prognosis:
BURDEN OF OVARIAN CANCER WORLDWIDE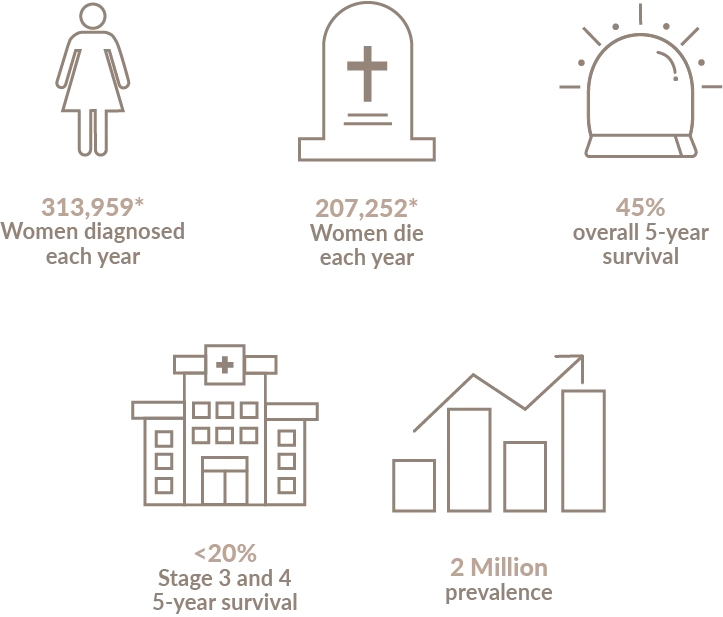 *Data source: WHO, 2020 data
According to ASCO, an estimated 313,959 people were diagnosed worldwide with ovarian cancer in 2020. The vast majority of these cases were high-grade serous ovarian cancers (HGSC) with reduced survival prognosis. This resulted in an estimated 207,252 people worldwide dying from ovarian cancer. Combined, cancer of the ovaries and peritoneum are the fifth most common cause of cancer-related death in women in the United States.
Peritoneal carcinomatosis  is a malignant tumor of the peritoneum, a thin layer of tissue that lines the abdomen. Peritoneal carcinomatosis can originate from nearly any other tumor, most frequently from gastric, intestinal and ovarian cancers. Today, peritoneal carcinomatosis is very difficult to treat and affects hundreds of thousands of patients worldwide.
AUP-55: OUR PRE-CLINICAL ASSET IN ONCOLOGY
OVARIAN CANCER AND PERITONEAL CARCINOMATOSIS
AUREALIS THERAPEUTICS 4-IN-1 PRODUCT AUP-55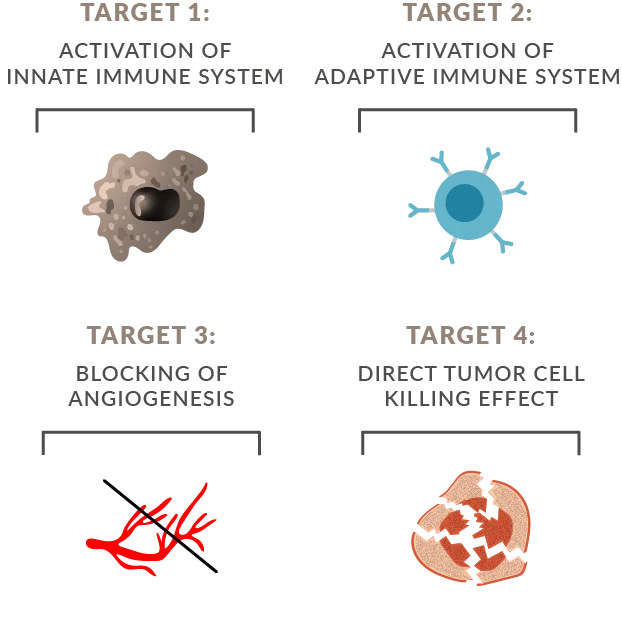 We believe that treating deadly cancers requires to tackle multiple biologic targets: (1) activating innate and (2) adaptive immune system, (3) blocking angiogenesis, and ultimately (4) killing cancer cells.
This is exactly what AUP-55, our Oncolytic-Bacteria based Advanced Therapy Medicinal Product (ATMP), actually does.
Oncolytic Bacteria immunogenic (activates immune system) and non-pathogenic (inherent NOD2, TLR2 and TLR9 agonism).
2. INTERFERON ALPHA
(IFN-α)
Anti-proliferative and anti-angiogenic used in multiple cancers, modulating tumor cell growth, differentiation, survival, migration via autocrine and paracrine routes.
3. INTERLEUKIN 15
(IL-15)
Pleiotropic common gamma chain cytokine promoting the differentiation and expansion of T cells, B cells and NK cells.
4. ENDOGENOUS BACTERIAL FACTORS TLR2, NOD2 AND TLR9
Surface TLR2 lipoteichoic acid and NOD2 peptidoglycan muropeptide enhancing immune response against cancer cells. Intracellular TLR9 agonist CpG motif of bacterial DNA driving innate and adaptive immune responses and killing of cancer cells.
Curing deadly cancers requires multitargeting
In oncology, the therapeutic needs are almost the opposite to wound healing: decrease angiogenesis, reduce proliferation and promote anti-tumor activity through innate and acquired immunity. This requires a different combination of therapeutic proteins.
AUP-55 is built on a non-pathogenic lactic acid bacteria lactococcus cremoris that is genetically modified to synthetize:
Thanks to the unique combination of therapeutic proteins, delivered through intra-tumoral injections, AUP-55 is able to activate the innate immune system, activate the adaptive immune system, block angiogenesis, and have a direct tumor killing effect. All in one product.
OUR OUTCOME WITH AUP-55 AND CANCER
AUP-55 ENABLES SURVIVAL IN MOUSE OVARIAN CANCER
Aurealis AUP platform shows efficacy in oncology, where we have excellent pre-clinical data. This is an example in advanced ovarian cancer.
Tumor implantation took place at day 0. Treatment started at day 14, After 30 days, all control animals have died from the tumor. But after 80 days, more than 90% of the animals treated with AUP-55 or AUP-65 are still alive.

| Modality | Product | Discovery | In vivo POC | GLP, S&T, CMC | IND/CTA | Phase 1 | Phase 2 | Phase 3 | NDA/MAA |
| --- | --- | --- | --- | --- | --- | --- | --- | --- |
Peritoneal Carcinomatosis