Breakthroughs aren't incremental. Our new approach to chronic wound healing moves far beyond symptom treatment.
Incremental improvement to chronic wound treatment is insufficient. Each year, thousands of patients undergo preventable amputations as a result of ineffective management of Diabetic Foot Ulcer or Venous Leg Ulcer; others suffer from psychological, physical burden and decreased quality of life due to pressure ulcers.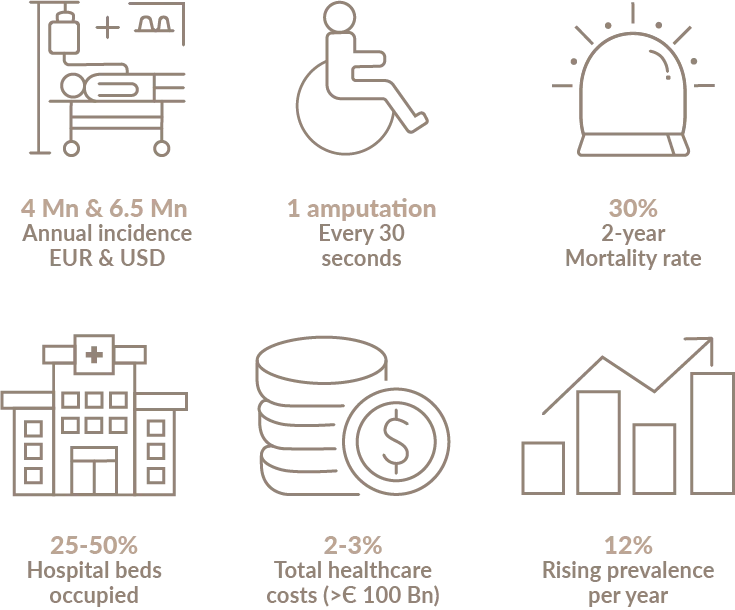 AUP-16: OUR LEAD CLINICAL ASSET FOR CHRONIC WOUNDS
a world first 4-in-1 cell therapy
We believe that, when treating chronic wounds, one needs to hit multiple targets to be disease-modifying. Very few companies or products can claim to truly target multiple biological targets. Carefully designed and developed pharmaceutical products, such as our Advanced Therapy Medicinal Product (ATMP) AUP-16, will make the difference. Our new ATMP approach promotes the healing of the wound by promoting tissue regeneration and releasing active biological therapeutic agents within the wound itself.
AUREALIS THERAPEUTICS 4-IN-1 PRODUCT AUP-16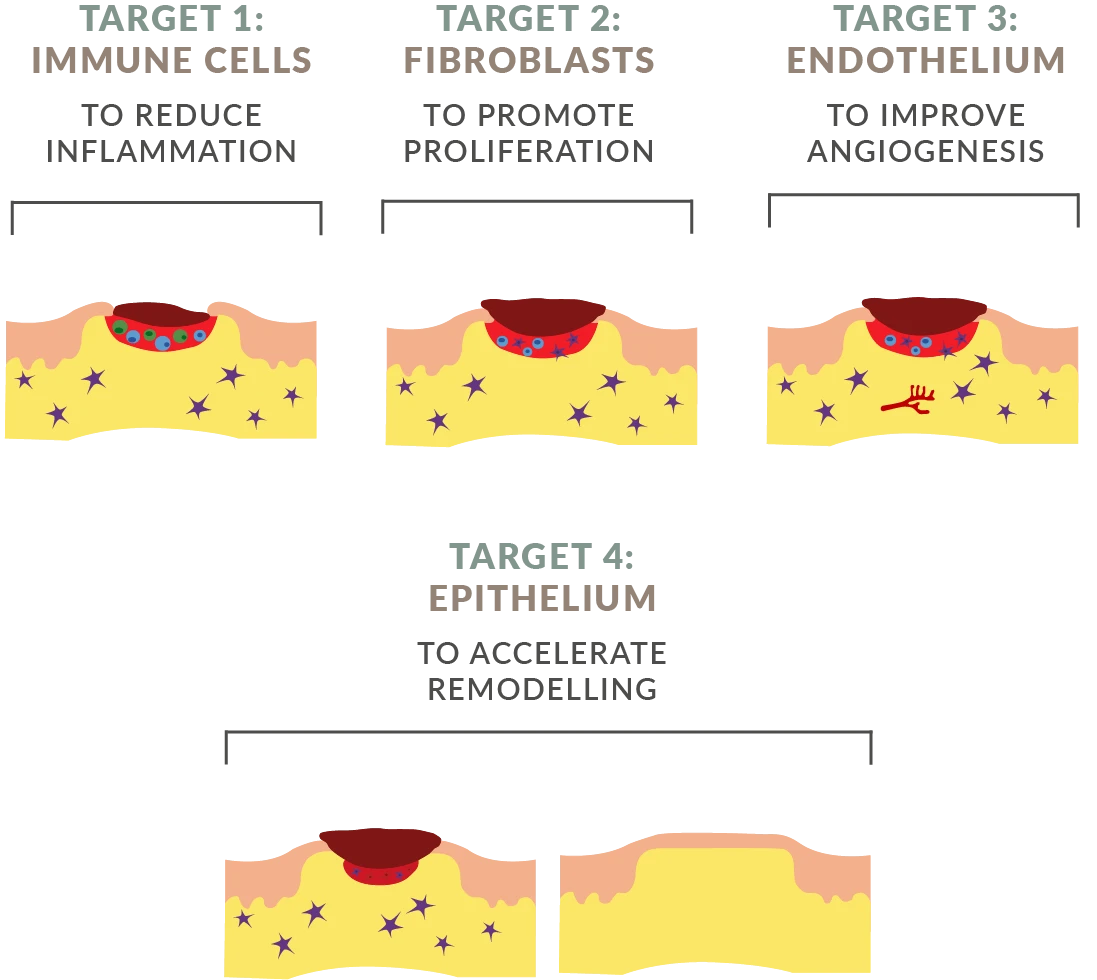 One Active Pharmaceutical Ingredient (API) product with the benefits of four therapeutics.
AUP-16 is a safe and effective recombinant live biotherapeutic product that features a patented active bacterial vector. AUP-16 includes four therapies in one product:
A non-pathogenic bacteria that acts as a bioreactor in the tissue, producing human therapeutic proteins in the wound. AUP-16 takes advantage of the safe, living bioreactor to produce proteins FGF-2, IL-4 and CSF-1.
2. FIBROBLAST GROWTH FACTOR (FGF-2)
A clinically used growth factor and signaling protein involved in cell proliferation and tissue repair.
A potent anti-inflammatory M2 cytokine that promotes regeneration.
4. COLONY STIMULATING
FACTOR 1 (CSF-1)
A hematopoietic growth factor involved in the proliferation, differentiation, and survival of monocytes, macrophages, and bone marrow progenitor cells.
AUP-16 is a topical treatment created using a genetically modified lactococcus cremoris bacteria. AUP-16 promotes healing by producing three therapeutic human proteins that (1) improve cell activation and conversion to anti-inflammatory phenotype, (2) increase fibroblast proliferation, and (3) promote angiogenesis and granulation tissue formation. 
The continuous production of the three therapeutic proteins FGF-2, IL-4 and CSF-1 by the active vector lactococcus cremoris at the site of the wound, results in our unique 4-in-1 combination biological treatment which is provided as one API.
AUP-16 provides multi-therapy in one product, it is not a combination product. Thanks to its multi-therapy approach, AUP-16 is able to reduce inflammation promote proliferation and angiogenesis, and accelerate remodeling.  All in one product.
Our therapy, AUP-16, is created under Good Manufacturing Practice conditions and analyzed using state-of-the-art methods to ensure identity, potency, consistency, and safety. 
AUP-16 has the power to accelerate and provide complete wound healing, avoiding amputations. This remarkable advancement is ideal for patients who only achieve partial response to wound care dressings and treatment of symptoms.
As opposed to the existing standard of care, AUP-16 promotes tissue regeneration in the wound to activate healing from within.
cell therapy stimulates endogenous tissue regeneration
protein production at the site of injury
makes it easy to  administer
modified food-grade bacteria
LEARN ABOUT AUP-16 MODE OF ACTION
READ OUR SCIENTIFIC PUBLICATIONS ABOUT AUP-16
2018:
Aurealis EWMA Poster
Therapeutic use of Lactococcus lactis for wound healing
2022:
4-in-1 Combination therapy using Lactococcus lactis expressing three therapeutic proteins for the treatment of chronic non healing wounds
OUR OUTCOME WITH AUP-16 AND CHRONIC WOUNDS
AUP-16: PHASE 1 CLINICAL STUDY IN DFU
83% of patients ACHIEVED complete healing
NO HEALED ULCER RECURRED AFTER 12 MONTHS FOLLOW-UP
In June 2022, we successfully completed the Phase 1 study in non-healing Diabetic Foot Ulcer patients with our lead product AUP-16. The last patient last visit (LPLV) was on 20th March 2023. All collected data will be processed and consolidated for publication. The clinical study report has been finalized.
Aurealis Therapeutics technology platform works in real life: non-healing diabetic wounds heal. Clinical results: 83% of patients reached complete healing, no healed ulcer recurred after 12 months follow-up.
More details about our Phase 1 Clinical Study:
NIH National Library of Medicine record
More details about our Phase 1 Clinical Study:
EU Clinical Trials Register
AUP-16: PHASE 2 CLINICAL STUDY IN DFU
aup-16 DIAMEND PHASE 2 RCT IN DIABETIC FOOT ULCER ONGOING IN GERMANY, ITALY AND POLAND
Following CTA approval of AUP-16 Phase 2 study in DFU in May 2023, the first DFU patient was dosed in August 2023. The DIAMEND study is a multi-center, single-blinded, randomized, standard-of-care plus placebo-controlled study in patients with non-healing diabetic foot ulcers, conducted in Germany, Italy and Poland.
More details about our DIAMEND Phase 2 Clinical Study:
NIH National Library of Medicine record
PHASE 2 CLINICAL STUDIES IN VENOUS ULCER AND PRESSURE ULCER WILL FOLLOW.

| Modality | Product | Discovery | In vivo POC | GLP, S&T, CMC | IND/CTA | Phase 1 | Phase 2 | Phase 3 | NDA/MAA |
| --- | --- | --- | --- | --- | --- | --- | --- | --- |
Do you want to knoW more about our lead asset aup-16?